Current Events
Wednesday
Want to bring your Salsa dance to a new level?
Free dance class. [Wednesdays 7:00 to 8:30] Salsa fundamentals, footwork, musicality & shines. .  Note: Students are required to practice what they learn so we can build progress each week.  This is not for total beginners. They should at least know how to dance basic salsa. We can not progress the class if they have no experience. No partner needed. We spend 45 min on footwork. 30 min on fundamental partner work. This class is very useful for improvers.
PM Peter Wilkinson on FB for further information.

Friday
Kick off the weekends with early Latin dance class (Salsa, bachata, Cha Cha Cha) @KENTO'S 6:30 to 8:30 pm. Good friends, great music.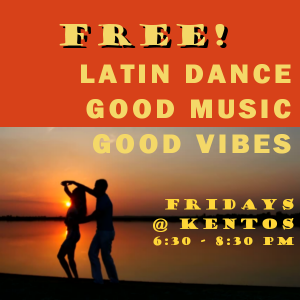 Saturday
Latin Night at Kentos Guam.   Dance the night away with live music and the hottest Latin DJ.